The light from more than one hundred candles gleaned against a backdrop of the Arizona State Capitol building and a Phoenix sky at dusk on the anniversary of the January 6 riots at the U.S. Capitol.
Some demonstrators were clad in military-style clothing complete with bullet-proof vests draping large rifles over their chest and bowed their heads, closed their eyes, holding candles during the vigil.
The group sang and prayed together to remember the attack by their brethren last year and likened the event to the American Revolution.
Five people died after supporters of defeated former President Donald Trump stormed the nation's capital while lawmakers met to certify the presidential election.
Marcia Faust, a local conservative activist, said during the Phoenix vigil that the insurrection in Washington D.C. was just like when George Washington crossed the Delaware River.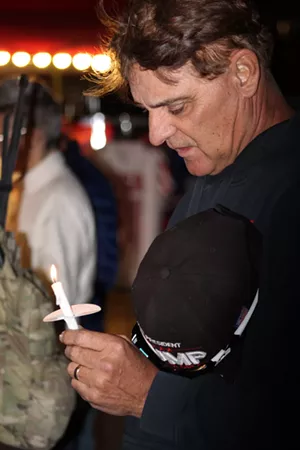 Look Ahead America, a conservative nonprofit, organized "Justice for J6" vigils in a dozen states. Nearly half were in Florida and Arizona, which played host to events in Phoenix, Queen Creek, Prescott, Nogales, and Yuma on Thursday night.
The organization claims to uphold the oft-repeated phrase, crediting Trump: "Through loyalty to our country, we will rediscover loyalty to each other."
Look Ahead America Executive Director Matt Braynard said rioters associated with his group would wait for justice patiently and peacefully despite being dressed and armed like a militia group. 
"We will continue to build public pressure on our government over the injustices suffered by the hundreds of our patriotic brothers and sisters," Braynard said. "The political persecution of these individuals not for what they did, but for their sincere political beliefs, must end."
Congressman Andy Biggs, the Republican legislator representing the East Valley in Arizona's 5th District, helped to victimize and weaponize the accountability insurrectionists face with an interview Wednesday.
He said likening Capitol rioters to traitors or rebels was "a bunch of crap."

"We have inhumane treatment of people who have not been convicted of a crime," Biggs said.
He criticized what Attorney General Merrick Garland Thursday called "the largest federal investigation in history" and said no participant in the attack deserves to be held in custody pre-trial.
The FBI, which conducted that unprecedented investigation, warned Valley and Tucson law enforcement agencies that extremists could exploit the anniversary of the insurrection as a cause to commit acts of violence. The Phoenix vigil had a heavy police presence.
The FBI warned that, rather than organized groups, lone vigilantes would pose a greater threat on January 6. It's all in the name of perpetuating the fabricated claim that the election was stolen from then-President Trump.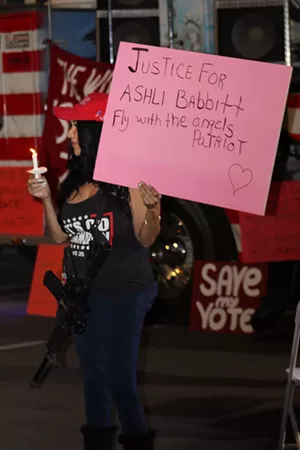 "Arizona is part of the folklore and mythology of the stolen election," said Brian Levin, director of the Center for Study of Hate and Extremism at California State University-San Bernardino.
Levin has tracked militia and hate crime activity in Arizona for much of his career. 
"Arizona, in many ways, is like a fulcrum of American politics," he said. "America balances on Arizona. It's a battleground."
More than ever before, political violence is cross-pollinating with cultural affiliation, he said. That makes Arizona the place to hold the wrestling match.
That, Levin said, is because of Arizona's history of right-leaning U.S. senators, status as a battleground state, plus the election audits. There's a base of people that can gather in agreement, which espouses extremism.
Not long before the Capitol attack, leaders like Jacob Anthony Chansley, better known as Jake Angeli, emerged from the extremist petri dish. Angeli, the "QAnon Shaman," was a Phoenix protestor and conspiracy theorist before he was sent to federal prison last year for his role in the insurrection. He pleaded guilty.
"Free Jake. That's all I got to say, man," Chansley's good friend and longtime fellow protestor, Ethan Schmidt, told Phoenix New Times.
The two Phoenix natives met at rallies and worked together to spread conspiracy theories, especially about election integrity and COVID-19. The 25-year-old Schmidt has harassed cancer survivors over wearing masks and he's been banned from a number of social media sites.
"They slander me all the time on the fake news," Schmidt said at the vigil.
In his hand, his cell phone continuously recorded video as he confronted anyone wearing a mask.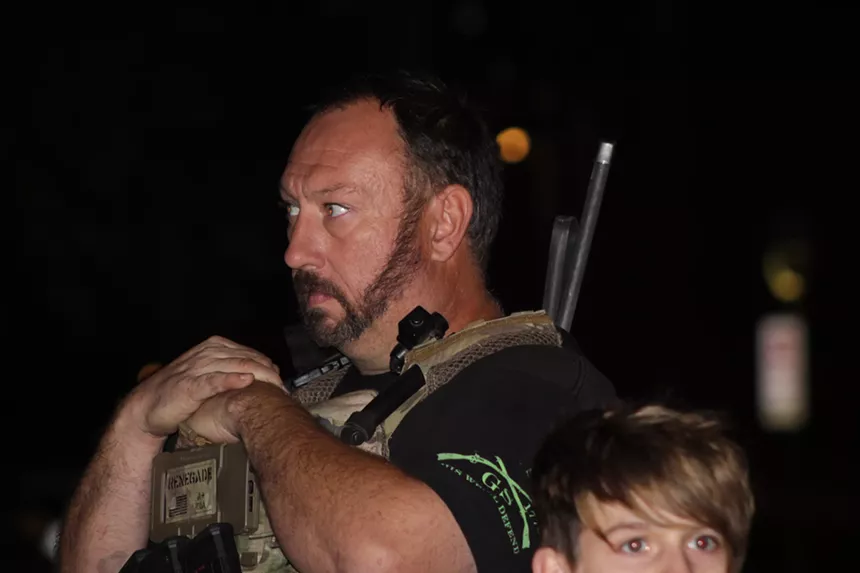 The vigil drew some fresh demonstrators too. 
Andrew Morris used Thursday night as a chance to familiarize himself with a community he said he's thinking about joining.
Morris is a correctional officer at the Arizona State Prison Complex in downtown Phoenix. It's a stone's throw from the State Capitol where the vigil was held.
"Justice for J6" was the first demonstration he had ever been a part of. He changed clothes before making his way to the Capitol Lawn, as to not be associated with the corrections department. He considers himself a Libertarian, he said.
Libertarians don't have enough people to rally, so "This is the next best thing," he said.
Inside the prison, the debate surrounding the January 6, 2021 attack has yet to subside. There is ample debate among officers, among inmates, and between the two.
"When people get into the prison system as inmates, a lot of their views are not Democratic," Morris said. "They may have been Democrats on the streets, but when they get locked up and they see how the inside of the system works, they start seeing the other side."
Unintimidated by the firearms and German Shepherds surrounding Morris in the dark crowd, it was that debate that piqued his interest and led him to seek like-mindedness in a right-wing political movement.
Demonstrators Thursday night mourned the death of Ashli Babbitt, a 35-year-old Air Force veteran who was shot and killed by Capitol Police officer Michael Byrd while she attempted to breach a barricaded door in the House chamber.
They also mourned the dozens of rioters convicted on federal charges, some of whom, like Chansley, are imprisoned. Many more are awaiting trial.
The rioters were exercising their rights, vigil attendees claimed when they tried to overturn the 2020 election and keep Trump in the Oval Office. Trump will be in Arizona for a rally next week.
Thursday's candlelight vigil was a calm moment before Trump arrives in Florence on January 15 for his first rally of the year. And it's no coincidence why he picked Arizona to kick off the 2022 rally season.
"Trump coming to Arizona does so many things," said Levin, the extremism academic researcher. 
The former president chose to start in a state where the staging is most advantageous for his shrinking base of support, but one that sends out a subtle message about borders, about prisons, about stolen elections, and a little something about John McCain, he said. 
"This is Trump's way of further trying to diminish or declare some sort of victory lap around John McCain, who didn't even want him at his funeral," Levin said. "Arizona politics has always represented a sharp-edged independence."
The U.S. Capitol attack on Democracy went far beyond the riot itself, he said. It was the perpetuation of alt-right ideology that Trump will undoubtedly broach at his rally 60 miles outside of Phoenix.
"The insurrection didn't end," Levin said. "It reverberated across the country."
Check out these musicians