Metro Phoenix's concert calendar this weekend isn't lacking when it comes to famous names. Case in point: Ice Cube, Too $hort, and other West Coast rap icons will headline The Bounce 101.1 Throwback Holiday Jam in downtown Phoenix on Friday. That same evening, you could potentially check out sets from DJ legend Doc Martin or punk guru Kid Congo Powers.
On Saturday, shock-rock king Alice Cooper will stage his annual Christmas Pudding concert with help from famous friends like Tom Morello, Ace Frehley, and Felix Cavaliere. Other notable acts rolling through local music venues this weekend include pop-punk band Waterparks, singer-songwriter Kacy Hill, and all-female tribute act The Iron Maidens.
Read on for more details about each of these gigs or check out Phoenix New Times' online concert listings for more music events. Keep in mind, though, COVID-19 is an ever-present danger and multiple local venues require proof of vaccinations or a recent negative test result to attend shows. More info can be found on the ticketing sites for each concert.
The Iron Maidens at Marquee Theatre
The Iron Maidens are a legendary all-women Los Angeles-based Iron Maiden tribute band. Comprising singer Kirsten Rosenberg as "Bruce Chickinson," singer and guitarist Courtney Cox as "Adriana Smith," Nikki Stringfield as "Davina Murray," bassist and backing singer Wanda Ortiz as "Steph Harris" and drummer Linda McDonald as "Nikki McBurrain," the world's first all-female tribute to the U.K. metal band is a no-holds-barred foray into the pageantry of true fandom. They'll shred their way through songs like "The Evil That Men Do," "Run to the Hills," and "Number of the Beast" on Friday, December 3, at Marquee Theatre, 730 North Mill Avenue in Tempe. Local bands The Jack, Sweet Danger, Diedre, and Double Blind will warm up the crowd starting at 6 p.m. Tickets are $27 to $57. Ben Wiese
Kid Congo and the Pink Monkey Birds at Valley Bar
No matter who you are, it's a pretty sure bet guitarist Kid Congo Powers has cooler friends than you. After all, Powers (real name Brian Tristan) got his start in 1979 playing guitar with punk-blues firebrands the Gun Club, then jumped ship in 1980 to spend a few years with the Cramps. After returning to the Gun Club from 1983 to 1987, he took leave again to work with the mighty Nick Cave and the Bad Seeds. After popping up on a few Mark Eitzel albums, Powers is busy these days with his own band for a change.

Kid Congo and the Pink Monkey Birds are a four-piece whose music recalls the voodoo-animated roots rock of his best-known work while fusing his sensibilities with garage rock, vintage R&B, and a dash of feedback-driven psychedelia. While Powers has been playing his own hell-bent variety of roots-rock for well over 40 years, his latest album with the Pink Monkey Birds, 2021's Swing From the Sean DeLear, sounds as though he doesn't have to worry a bit about keeping up with the times. His first Valley gig in years happens on Friday, December 3, at Valley Bar, 130 North Central Avenue. Ritchie White Orchestra opens the 6:30 p.m. show. Tickets are $16. Mark Deming
Doc Martin at Walter Where?House
From the mid-'80s to the early '90s, San Francisco was a Shangri-La of house music. It's where impresarios like Doc Martin got their start or continued their careers. Martin began spinning records in the summer of 1986, playing legendary eight-hour sets at such clubs as Flammable Liquid and Sunday Love and making a name for himself as a versatile selector and eclectic mixer. His sets range from deep, sultry, vocal-centric tracks to lively, percussion-heavy tribal mixes. He tours constantly, all over the planet, and hasn't lost any of his edge through the decades. He's scheduled to headline the Walter Where?House, 702 North 21st Avenue, on Friday, December 3. DJ Court opens the evening at 9 p.m. Tickets are $17 in advance, $21 at the door. Amber Taufen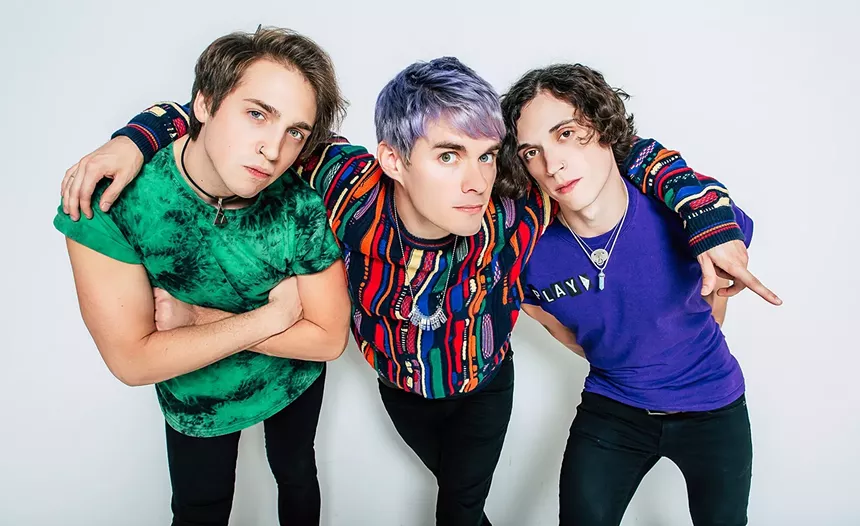 Waterparks at The Van Buren

Waterparks are nothing if not prolific. Since 2016, the Houston-born pop-punk band has released four studio albums and a live record, including the recently released Greatest Hits, which — like the rest of the group's output — received widespread acclaim from both critics and fans. Fans of sing-along choruses and snarky lyricism can catch Waterparks in concert on Friday, December 3, when their current tour comes to The Van Buren, 401 West Van Buren Street. California-based indie artist Phem opens the 7 p.m. concert. Tickets are $30 to $35. Matthew Keever
Kacy Hill at The Rebel Lounge
In November, singer-songwriter Kacy Hill released Simple, Sweet, and Smiling, which is a document of her working through hardship: Her father suffered a heart attack as she was starting the album, and her own latent anxiety disorder began to surface. You can hear songs from the album live and in-person on Saturday, December 4, during her show at The Rebel Lounge, 2303 East Indian School Road. Singer-songwriter John Carroll Kirby opens the 6:30 p.m. concert. Admission is $16. Westword Staff
The Bounce 101.1 Throwback Holiday Jam at Footprint Center

Every hip-hop radio station worth its weight in Arbitron ratings has a Christmastime concert these days. In the case of The Bounce 101.1, it's the Throwback Holiday Jam on Friday, December 3, at Footprint Center, 201 East Jefferson Street. True to the station's old-school hip-hop bent and playlists, the concert will have sets by legendary West Coast rappers like Ice Cube, Too $hort, and Warren G. Other throwback acts scheduled to perform include R&B/hip-hop artist Baby Bash (remember "Suga Suga"?), Oakland-born duo Luniz, and J.J. Fad, the all-girl trio behind the 1988 track "Supersonic" (the one that will.i.am ripped off for "Fergalicious"). The night kicks off at 8 p.m. Tickets are $45 to $150. Benjamin Leatherman
Courtney Barnett at The Van Buren

Australian singer-songwriter Courtney Barnett is rolling into town for a show at The Van Buren, 401 West Van Buren Street, on Saturday, December 4. Since her debut in 2009, Barnett has built a reputation around her captivating vocals and her gritty, bone-crushing guitar playing. Over the years, those skills have been incorporated in collaborations with artists such as The Breeders, Kurt Vile, and Jen Cloher. Her second album, Tell Me How You Really Feel, is uncharacteristically more introverted than her previous witty EPs and debut album. But still, Barnett is doing her thing. Currently touring behind this year's Things Take Time, Take Time, she will share the bill at The Van Buren with singer-songwriter Bartees Strange. The show is at 8 p.m. and tickets are $31 to $36. Jacob Vaughn
Alice Cooper's Christmas Pudding at Celebrity Theatre

Since its launch in 2001, Alice Cooper's annual Christmas Pudding concert has always proven to be a tasty recipe. Every year, the Valley legend mixes an impressive lineup of musicians (usually culled from his Rolodex) with generous amounts of rock 'n' roll revelry and a dash of charitable spirit to create one of the most memorable shows of the holiday season. Such will be the case with the 2021 edition of Christmas Pudding on Saturday, December 4, at Celebrity Theatre, 440 North 32nd Street, which will include sets by Cooper and his touring band, as well as special guests like Rage Against the Machine's Tom Morello, KISS guitarist Ace Frehley, Ed Roland of Collective Soul, Sugar Ray's Mark McGrath, and Felix Cavaliere of The Rascals. The event starts at 8 p.m. and tickets are $60 to $300. Proceeds from the event will benefit Cooper's Solid Rock Teen Centers. Benjamin Leatherman
David Hohme at Walter Where?House
Classically-trained multi-instrumentalist turned DJ David Hohme will spend the evening of Saturday, December 4, bringing his beats to the masses at Walter Where?House, 702 North 21st Avenue. The melodic house and techno artist has made waves since performing at All Day I Dream parties in Brooklyn and now helms his own record label, Where The Heart Is, as well as churning out his own tunes and touring some of the world's best clubs and parties. Sean Watson of Bar Smith's BFF dance night will have an opening set. Tickets for the 9 p.m. gig are $15 in advance, $22 at the door. Olivia McAuley
Trans-Siberian Orchestra at Footprint Center

If there's a time to embrace extreme performances, it's Christmas, a holiday about extreme consumption and lights — lots of lights. You've likely been hearing some epic holiday tunes on the radio lately, such as Trans-Siberian Orchestra's over-the-top creation "Carol of the Bells." TSO was founded by the late composer Paul O'Neill, whose band gained worldwide fame with the 1999 album The Christmas Attic. The rocking new-age instrumentalists will bring their one-of-a-kind holiday cheer — with electric riffs, mad strings, tons of colorful laser lights, and, yes, bells — to Footprint Center, 201 East Jefferson Street, on Sunday, December 5. Get rock-opera'ed out in preparation of the holiday frenzy. Performances are at 3 and 7:30 p.m. Tickets cost $36.49 to $84.75. Liz Tracy
Check out these musicians